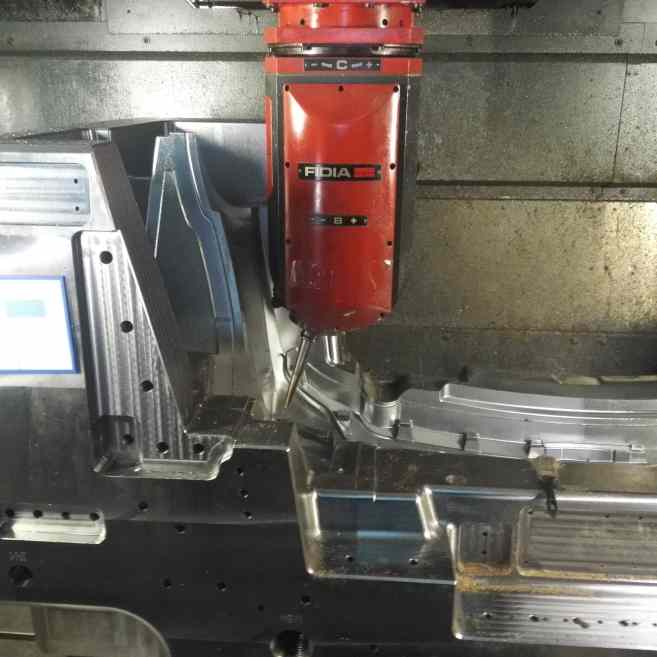 Automotive bumper mould maker in China
Providing the best possible quality in custom Automotive bumper mould, Topworks focuses on designing and manufacturing molds with the latest technology.
Topworks has contributed significant knowledge and expertise to the automotive plastic injection mold industry for over ten years. Therefore, we can offer you the highest quality original Automotive bumper molds on the market.
It is a fact that Topworks can manufacture a complete set of Automotive bumper mould in an efficient and timely manner, and they also can customize the assembly and custom machining of each bucket to suit the customer's specific needs.
As a result of our highly skilled employees, each of whom possesses specific expertise in Automotive bumper mould, we are comfortable fulfilling your plastic mould requirements regardless of how complicated the designs are.
We develop prototypes and production Automotive bumper mould in-house, and since we can deliver a multitude of your requirements, your products will be completed within our building.
We could supply different kinds of bumper mould with P20 and 2738 steel, especially for the hot-runner (sequence timer control)and runner-less car bumper mould.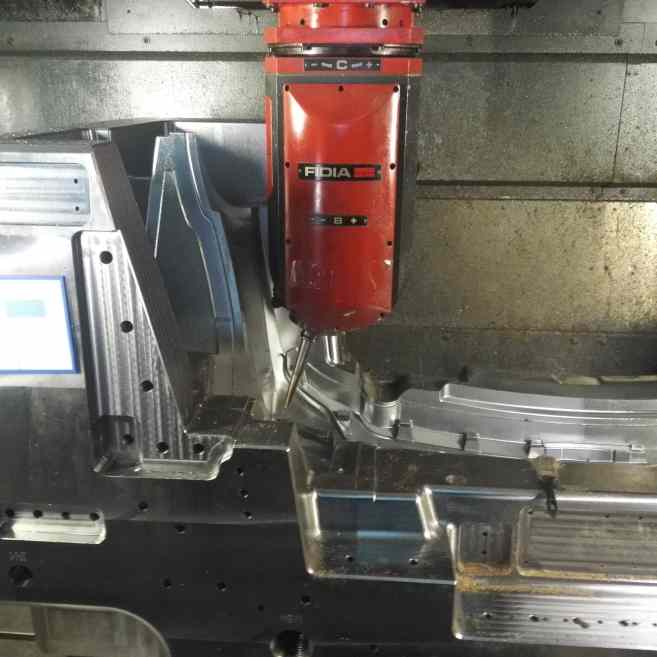 Runner-less or Hot-Runner of Bumper Mould
When the plastic melt is thermally stable, it is possible to eliminate the need to regrind runners using runnerless molds. One common type is the hot runner mold. In this bumper mould, the plastic is injected into an insulated runner plate that is kept slightly above melt temperature by a separate set of electric cartridge heaters and then through the runner channels and insulated nozzles into each cavity . This is a runnerless operation since there is no runner regrind. An air gap thermally insulates the hot runner plate.
Hot-runner bumper moulds offer numerous advantages since the runner and sprue are removed. There is no material loss or contamination from regrinding and no extra cost in blending regrind with virgin resin for automotive companies. Polymer properties are not altered by regrinding, especially optical and electrical properties. Neither the melting nor cooling of regrind wastes any energy. The shot capacity is effectively increased and mold-opening stroke is reduced. In the case of cold runners, this can occur during ejection, and it is eliminated through hot runners. The bumper mould fills faster, and a balanced flow to the cavities is more readily accomplished.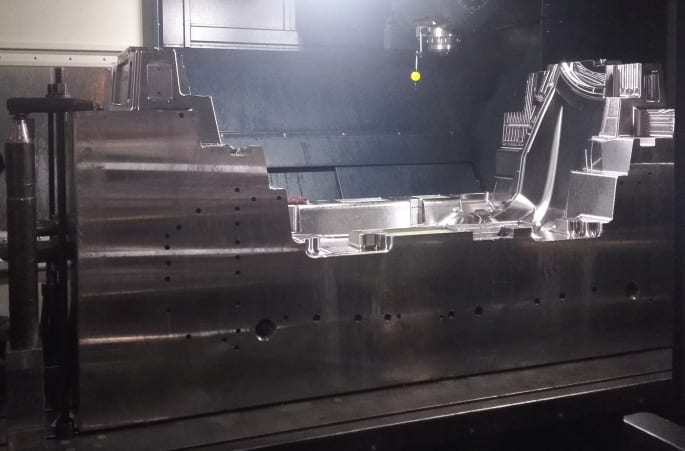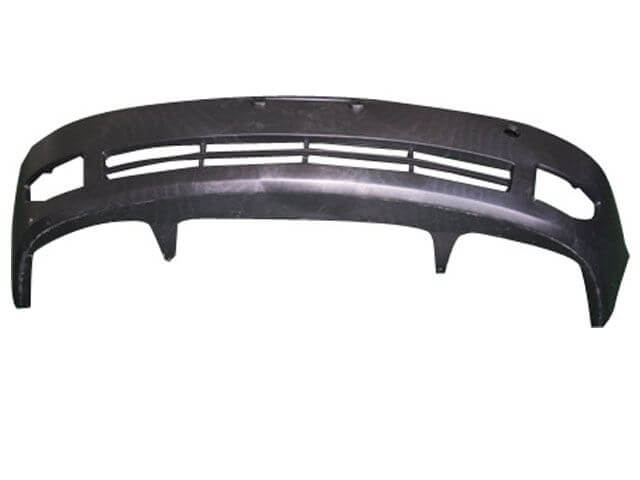 "I'm glad to inform you that all plastic parts are perfect!!! We are delighted, and therefore there are good chances to continue our relationship for any coming new project."
"Steven is an excellent professional with great knowledge and technical practice."
"Steven is a very detail-oriented project manager and engineer who can solve problems creatively and also provides excellent service. It was a pleasure working with him."
Hydraulically operated gate valves or valve gate systems have been developed to control drool and prevent freezing. Valve gates are compact hydraulic cylinder/valve pin assemblies for positive individual gate shutoff. The hydraulic cylinders retract at each gate at a preset time, permitting melt flow. Secondary timers set the positive closure of each valve to occur after the optimum preset fill time has expired. This eliminates overpacking or underfilling at each gate.
The system manifold and nozzles are temperatures controlled to prevent thermal degradation of the melt. This complex system helps control cavity filling and end bumper product properties, especially for large, multigated parts and family moulds. Family moulds make different parts for a common assembly and inherently have unbalanced flow.
The tool maker can adjust Valve gate systems to compensate for unbalanced flow and run with minimum rejects in these situations. This is vital where regrind is not allowed because of rigid product specifications, such as in medical or optical products.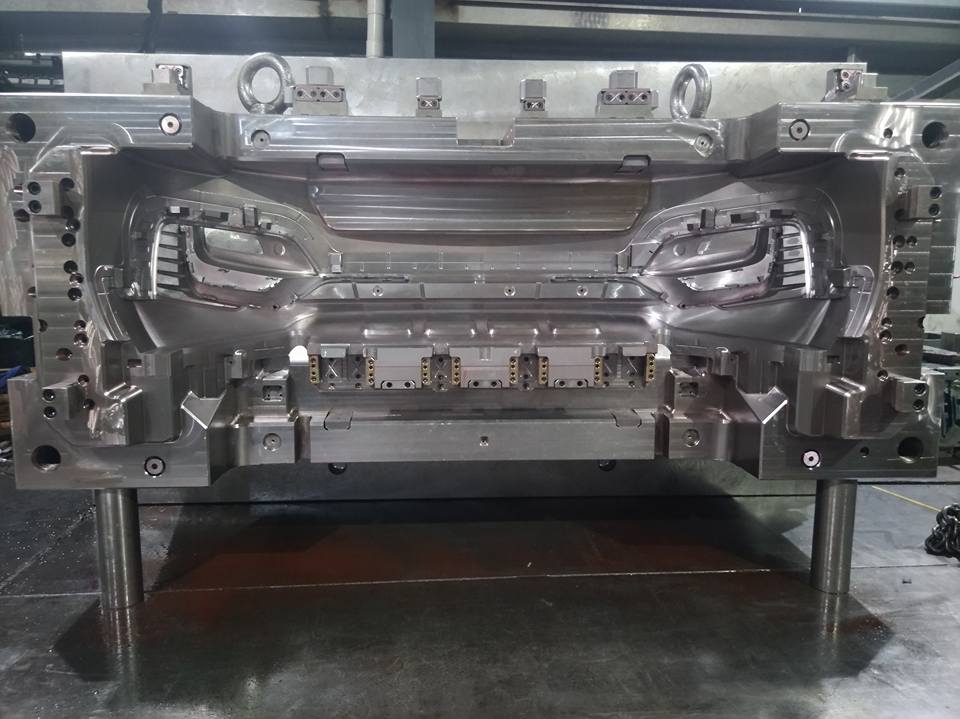 A simple alternative to heated hot-runner bumper moulds is to provide sufficient thermal insulation in the runner plate to keep the plastic from freezing. In an insulated runner mold a low thermal conductivity plastic skin, formed toward the end of injection next to the surface of the runner walls, insulates the bulk of the plastic flowing through the channel.
The diameter of the runner is about twice that for a cold-runner system. One disadvantage is that machine stoppage for 15 s or more may result in runner freezing, requiring partial disassembly of the mold to remove the runner.
Runnerless bumper molds have become popular for long production runs where bumper mold maker can absorb extra mold cost and setup time. Valve gate systems are susceptible to contaminants in the melt stream that can clog nozzle valves. The three-plate mold is an alternative when simplicity and lower cost are important and where runner regrind is not excessively costly.