Looking for a quick and easy way to get your PET preform mould delivered? Look no further than Topworks. We offer quick delivery, one stop service, and free design so you can get your PET preform moulds quickly and with fewer headaches.
We understand that you want preform moulds that are of the highest quality, and that's why we offer our customers a quick and easy way to get the job done. We use state-of-the-art technology to create PET preform mould, and we take great pride in our quick and easy delivery process.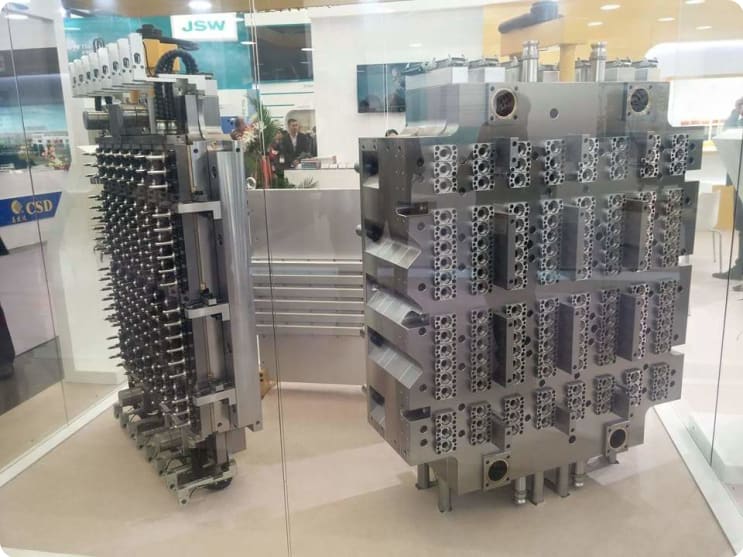 Topworks plastic mould company has accumulated significant experience in the plastic injection moulding industry over the last ten years in China. As a result, we have developed substantial knowledge and expertise that allow our company to offer the customers the highest level of skills, knowledge, and dedication in the preform mould market.
No doubt about it, Top works can manufacture a complete set of PET preform moulds on time and accurately, at the best possible PET preform moulds prices.
We want to be your one stop shop for all your preform mould needs, so don't hesitate to contact us today. We look forward to helping you get your pet preform to market quickly and with minimal hassle.
It is also possible to customize the assembly of the PET preform mould to meet the customer's specific needs, as well as custom manufacturing each PET preform to suit their needs.
The skilled workforce working for Top works is specialized in more than one division, ensuring the creation of moulds with unique features for different types of plastic PET preform. Among our many capabilities is our ability to manufacture a comprehensive array of plastic preform moulds.
In addition, you can create the PET preform mould right here in our facility, or the products can be made right here as well. With this service, everything you need can be made at one location.
WHAT OUR CUSTOMERS SAY
"I'm glad to inform you that all plastic parts are perfect!!! We are delighted, and therefore there are good chances to continue our relationship for any coming new project."
"Steven is an excellent professional with great knowledge and technical practice."
"Steven is a very detail-oriented project manager and engineer who can solve problems creatively and also provides excellent service. It was a pleasure working with him."
Topworks PET preform mould features:
The cavity number of PET molds ranges between 1 and 96;
Developed on the premise of the latest technological developments, state-of-the-art preform mould construction has been designed in consultation with European mould style.
Over 2.5 million injections of the same quality preforms held over the course of his lifetime.
Moldflow analysis diminishes the amount of NG you can see.
The global criterion screw neck was developed with premium nitride steel to increase its durability and hardness at the same time.
ASSAB s136 or DIN 1.2316 steel is used for mould impression and insert and for the slide insert because the steel is the best available quality and precision. Its excellent hardness, superior polish, anti-rust and accuracy make it an excellent choice for PET preform moulds making.
Patented correcting technique allows for better control of thickness and reduces possible the preform thickness disorder that might occur during preform injection molding.
Innovative water hoses have been developed to reduce the leaking and reduce water spots on the preforms.
The nozzle pin is connected to the hydraulic cylinder (Japanese or European Origin) and designed to be synchronized with the PET preform mould plates movement.
26MM,PCO28MM,25/30MM,32MM,38MM,48MM,52MM,62MM, Standard PCO neck finish
PET Mould Price Classifications:
High price: Pneumatically-driven valve, shut off nozzle.
Low price: Long relics
Medium price: Short relics
PET preform Mould design:
Typically, to fulfill the requirements for designing a PET preform Mould for production, a preform mold must have functional strength, possess sales appeal, be competitively priced, and fulfill practical characteristics.
It is important to design a preform mould so that the most appropriate steel and processes will be utilized to make it economically feasible for the manufacturer to manufacture the PET preforms.
Our Preform mould features as follows:
Cooling Channel set-up
An especially designed set-up of water cooling channels combined with special finishing reduced the overall cycle time. Each particular water channel was specially processed to minimize the chance of jamming.
Correction Technique for Core Off-Centered
It is possible to make a difference in preform's wall thickness of less than 0.006 mm by utilizing the Off-Center Correction Technique. The application of this system does not affect the longevity of the PET mould throughout its useful life;
Pin-valve System
Using a Pin-valve type of Hot Runner System for the PET preform mold, this type of Hot Runner System is effective in reducing processing times, reducing part wear & tear and lowering gate trim costs, and at the same time cutting electricity consumption.
Coil Heating
The Dual Heating and Cooling system can ensure that the result of heating and cooling is excellent and quality control is reliable. Heat coils keep the nozzles at a constant temperature through the full cycle time. Moreover, the Heater System is utilized to increase the hot-runner plate's heating capacity with long life and effectiveness. We imported the heating band for the preform mould from Germany.
Technique of self-locking
Our PET preform mould incorporates world state-of-the-art bi-axis insert alignment and self-lock system in line with global best practices.
Preform mold spare parts and after-sale services:
we are a devoted PET mould, preform mould, PET bottle mould manufacturer in Huangyan, China.
Each set of PET preform mould undergoes strict mould trials, and preform mould trial video will be sent to the customer for confirmation before shipping from the factory and attaches a full set of the recorded parameter depending on their own and sole serial number.
Together with the PET preform mould, a full set of spare parts will be supplied for free to keep mold normal operation.
In the use of the PET preform mold, Topworks provides adequate spare parts to any request.
Topworks service department is very willing to provide technical support immediately for any possible request at any time. Also, we could send our engineers overseas for mold installing and adjusting.
PET preform mould with 8 cavities 发布人 stevencheng

PET preform molding troubleshooting

PET preform neck finish categories
PET preform specification

Neck size

Weight (for carbonated soft drink and mineral water)

26mm
13g 16g 18g
PCO28mm
11G 15G 17G 18G 20G 21G 24G 25G 26G 27G 28G 32G 35G 40G 43G 45G 48G 52G 56G
25/30mm
14G 15G 16G 18G 20G 23G 25G 32G 34G 38G 43G
38mm
28G 30G 35G 45G 48G 50G 60G 65G 68G 72G 87G

Neck size

Weight(for cooking oil)

32mm
20G 30G 35G 40G 47G 50G 55G 60G 70G 80G
37mm
48G 60G 65G 70G 73 G 85G
46mm
55G 60G 65G 70G 75G 80G 84G 90G 95G 100G 103G 105G 110G 115G 130G 140G
72mm
175G 140G 238G 255G 290G 300G
PET injection moulding processing introduction
PET, also called polyethylene terephthalate, is also known as polyester. At present, the most used kind is PET-GF; it is mainly for bottle PET preform manufacturing.
The rheological property of PET is better in the molten state, and the pressure effect on the viscosity is greater than that of temperature.
Therefore, it is mainly to change the fluidity of the melt by changing the pressure.
Plastic processing .due to pet macromolecules containing grease, it is hydrophilic. Pellets in high-temperature water are more sensitive. The moisture will decrease the molecular weight of the pet, which would lead to poor color and brittle parts.
Dry; the drying temperature is 150 degrees, time more than 4 hours. And generally, it is 170 degrees, about 3-4 hours. Whether the material is completely dry can be tested by a shot to air. The recycled material ratio is generally not more than 25%, and also the reground material should be completely dry.
Injection moulding machine .due to the shorter stable time after melting and high melting point, it is necessary to use the injection machine with more multi-step temperature control and less plasticizing friction heat system .and all weight(products and runner) is not less than 2 / 3 of machine injection volume.
PET preform mould and its gate design. Generally, PET bottle preform mould is installed with a hot runner system. There should have insulation plates (about 12 mm thickness) between the PET preform mould and injection moulding machine, and the heat insulation plate can withstand high pressure. Air venting must be sufficient to avoid local overheating or fragmentation, but the depth of the slot is generally not more than 0.03 mm. Otherwise, it is easy to invite flash.
Melt temperature .it is 270-295 degrees Celsius by a shot to air, PET-GF can be set to 290-315.
Injection speed. The fast shot can prevent premature injection solidification. But too fast will lead to a high shear rate and brittle products. The shot is usually completed within 4 seconds.
Backpressure. The possible low back pressure is a better way to avoid wear. Generally, the backpressure is not more than 100 bar.
Stay time and temperature. Stay time shouldn't be long to prevent the decline of molecular weight, and the temperature should possibly avoid more than 300 degrees Celsius.
If the downtime is less than 15 minutes, shot to air is OK; But if it is over 15 minutes, it should use PE to clean the barrel, and the barrel temperature decreases to PE temperature.
Note: recycled materials cannot be added much. Otherwise, it easy to produce poor quality products.
If the mould temperature or material temperature is not proper, it is easy to produce "opaque" pet preform.
The low mould temperature and the fast cooling rate would achieve POOR transparent PET preform.
plastic preform moulding troubleshooting
Here is the table you requested:
| Faults | Causes | Solutions |
| --- | --- | --- |
| Bottom whitening of PET preform | – Too low temperature of nozzle of hot runner | – Improve the insulation |
| | – Too low temperature of plastic material | – Increase the nozzle temperature |
| | | – Increase the material temperature |
| | | – Increase the injection speed |
| | | – Lower the packing pressure |
| | | – Lower down the cooling water speed |
| Opaque PET preform body | – Poor material drying | – Ensure 4+ hrs drying |
| | – Insufficient material plasticization | – Increase material temperature |
| | – Too thick wall and poor cooling | – Increase the rotation speed of screw |
| | – Foreign material mixed | – Verify the drying temperature and shot volume; drying temperature 165 ℃ and moisture <0.02% |
| | | – Improve the cooling and make the wall thinner |
| Pet preform from transparency to Opaque | – Too high ejection temperature | – Improve cooling |
| | | – Prolong the cooling time |
| | | – Change injection time |
| Haze on one side of the preform | – Too high hold pressure | – Lower the hold pressure |
| | – Eccentric gate | – Fix the PET preform mold |
| Sliver streaking or yellowing of PET preform | – Plastic decomposition | – Lower drying temperature and prolong drying time |
| | | – Change the injection speed |
| | | – Lower the material temperature |
| | | – Lower nozzle temperature |
| Voids in PET preform | – Insufficient drying | – Improve the drying |
| | | – Increase the material temperature |
| | | – Lower the rotation speed of the screw |
| Uneven ring groove on the inner wall | – Vapor condensation in the core and cavity | – Improve the workshop drying |
| | | – Increase the cooling water temperature |
| | | – Drain the PET preform mold |
| Breakage on the gate of the PET preform | – Misalignment of hot runner nozzle and gate | – Fix the PET preform mold |
| | – Undercut on the gate | – Prolong the cooling time |
| | – Gate too hot | – Increase the injection speed or prolong the injection time |
| | | – Improve the insulation of the gate |
| Short fill or weld line on the neck of PET preform | – Poor venting | – Enlarge the venting groove |
| | – Eccentric gate position | – Clean the screw neck |
| | | – Lower the injection speed |
| | | – Fix the gate |
| Uneven wall thickness of PET preform | – Poor quality of PET preform mold | – Eccentric gate orifice |
| | – Too high injection pressure | – Fix the PET preform mold |
| | – Eccentric core | – Increase the material temperature |
| | | – Lower down the pressure |
| | | – Improve the accuracy and use adjustable core and cavity |
| Surface dent of the PET preform | – Too high material temperature | – Lower the material temperature |
| | – Too short injection time | – Prolong the injection time |
| | – Too short hold time | – Increase the hold pressure |
| | – Too quick injection speed | – Lower the injection speed |
| | – Insufficient cooling | – Increase the cooling water pressure |
| Nozzle drooling | – Poor insulation | – Improve the cooling |
| | – Insufficient cooling | – Clean the screw |
| | – Too much pressure on the melt | – Poor non-return on screw head |
| | – Too low hold pressure | – Secure the gate insulation |
| | | – Improve the cooling |
| | | – Clean the screw |
| | | – Increase the hold pressure |
| PET preform bend after ejection | – Eccentric gate orifice | – Fix the PET preform mold |
| | – Uneven cooling | – Lower hold pressure |
| | | – Increase the injection speed |
| | | – Prolong the cooling time |
| | | – Clean the cooling line |
| | | – Increase the cooling water pressure |
| PET preform bend after heating | – Eccentric core | – Fix the PET preform mold |
| | – Eccentric temperature adjust orifice | – Fix temperature adjust base |
| | – Uneven density of PET preform | – Lower the temperature, especially on the bend section |
| PET preform local whitening | – Insufficient PET preform heating temperature | – Increase the PET preform heating temperature and even the all body temperature |
| Insufficient expanding of PET preform | – Insufficient air pressure | – Increase the air pressure and air |
| | – Insufficient heating temperature | – Increase the temperature of the PET preform |
| | – Injection fault of PET preform | – Verify the PET preform, even soften by 100 C water |
| Crack of the preform bottom | – Too high preform bottom temperature | – Adjust the preform temperature |
| | – Too low preform temperature | – Severe decomposition |
| | – Severe decomposition | – Check and change the preform and material, improve the drying |
| PET preform eccentricity | – Too early blowing | – Delay the blowing time |
| | – Too high air pressure | – Lower down the air pressure |
| | – Misalignment of blow pin | – Check and fix the installment |
| | – The bottle bottom | – Check the PET preform |
| | – Severe eccentricity | – Adjust the air cylinder pressure |
| | – Too low speed of blow pin | – Adjust the distance between blow pin and bottle bottom to be 1.5mm or smaller |
| | – Distance between blow pin and bottle bottom over 1.5mm | – Lower the preform bottom heating temperature |
| Preform body insufficient extending on the vertical direction | – Too high heating temperature | – Local cold slug |
| | – Local cold slug | – Insufficient air pressure and air volume |
| | – Insufficient air pressure and air volume | – Poor venting of blow mold |
| | – Poor venting of blow mold | – Too high blow mold temperature |
| | – Too high blow mold temperature | – Too thin wall |