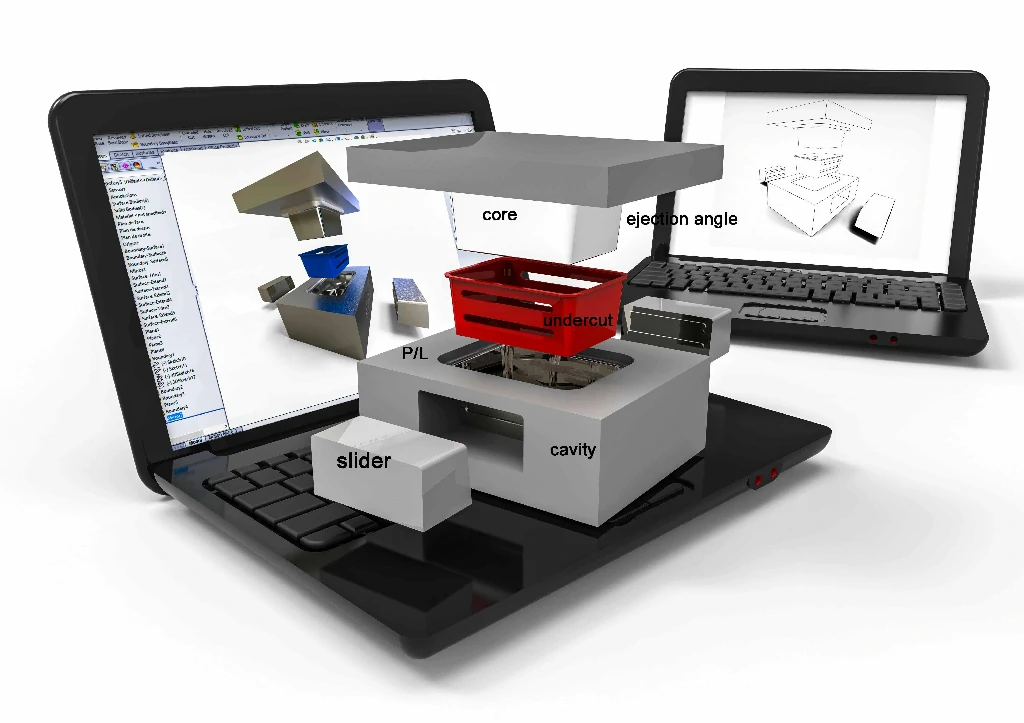 Parts Design (client might offer completed 3D files)

<– client side
The process of tooling starts with a completed and examined part design. If you choose, Topworks can optimize it for Design prior to tooling. This will allow you to reduce expenses make your design will be compatible with future procedures.please remember, at this stage, you couldn't be more exact for demand,and it could cut your cost from our suggestions once we know exact what you want and its usage.
Parts Prototyping (if required)

<– client side or Topworks
If you opt to have your parts design validated with a tangible machined item, Topworks is able to use Computer Numerical Control (CNC) methods to have your parts prototyped.This service includes:3D printing,SLA,SLS and direct plastic bulk engraving
Tooling Design

<– client side or Topworks
During this stage, the tool is developed based on the data from your finished Tooling Information Worksheet.
Mold Flow Analysis and Tooling Check

<– client side or Topworks
The design of the tool is assessed and approved for correctness.
Tooling Making

<– Topworks
This stage consists of Electrical Discharge Machining (EDM) and Computerized Numerical Control (CNC) technologies) and the other machining methods
The tooling is fabricated with specifics as per the validated design.
Routine check report from Topworks
Client's First Shots

<– Topworks
Upon creation of the injection molds, the initial test shot examples will be delivered by international courier. It will arrive within 2-5 days.
Tooling Adjustments and Texturing

<– Topworks
During this stage, Topworks finishes the tool and performs necessary modifications to bring it into the approved spec. Adjustments to bring the tool to spec (isolating design adjustments, which always comes at an extra cost) are manufactured free of charge by Topworks.
Texturing transpires at this stage, which is usually the final stage prior to mass production.
Mass Production Export or Run

<– Topworks
Parts are developed and sent to the customer at this stage, or the tool is sent out for export use.
[divider_top]
With regards to tooling, it generally takes 5 to 6 weeks after acquiring deposit fund receipts for molds to be manufactured, assuming the 3D files are correct. If your request is urgent, we can minimize the lead time to 21 days at an extra cost.
"T1" examples are the initial stage test shot samples created according to the specifications of your 3D files. Based on the first 3D design and how intricate the plastic parts are, it takes typically 1 to 2 weeks, perhaps longer, to finish the test shot stage.
Production lead-time is contingent on the complexity of parts, as well as requirements for materials and tools, in addition to how much the client needs. If you have a timeframe, kindly advise us of it. We will bring it to the attention of our factories to determine if we meet your deadline. Generally, for an order of 10,000 units, we predict 2 weeks.
Get in touch with us for information on your project's timeframe, since project scopes and schedules differ.
Shipment schedules are based on which method is used (for instance, UPS, DHL, TNT, FedEx, sea shipment, or air cargo).
If you have designated a freight forwarder, we are able to use your existing agreements and account at an extra cost.
If you havn't, we can offer you names of forwarders that have collaborated with us before.
As per our experience, samples typically take between 2 to 5 days by air, 20 to 45 days by sea, based on the destination.
For deliveries sent FOB Chinaport, it is not advisable to use an international courier service, as the process is rather complex. EMS is a better option for small, urgent deliveries.
Also, regular times for customs declarations differ by country. It is worthwhile to speak with your local freight forwarders.