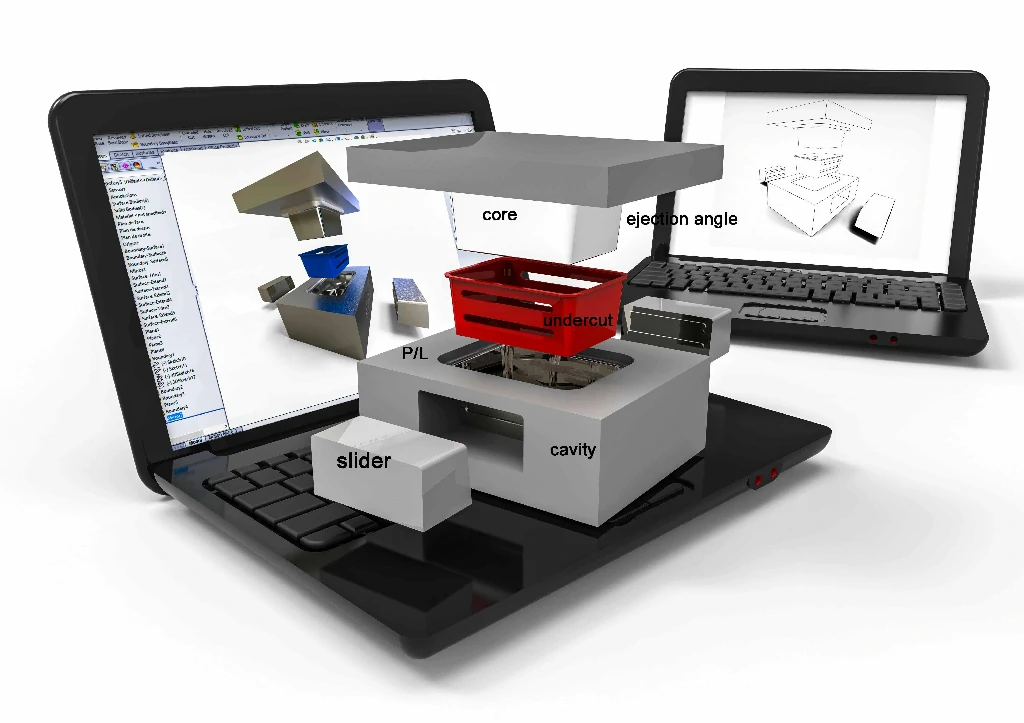 Designing the Parts (You may provide the 3D files)
The process starts with a completed and double-checked part design. If you want, we can optimize the design before tooling to reduce costs and ensure compatibility with future steps. Please keep in mind, at this point you can't be too specific about requirements, and our suggestions could lower costs once we know exactly what you need and how the parts will be used.
Prototyping the Parts (if needed – you or us)
If you want to test the part design with a physical model, we can use CNC machining to prototype your parts. This includes 3D printing, SLA, SLS, and direct plastic engraving.
Designing the Tooling (you or us)
Here we develop the tooling based on your final Tooling Information Worksheet.
Analyzing and Checking the Tooling (you or us)
The tooling design is evaluated and verified for accuracy.
Making the Tooling (us)
We use EDM, CNC, and other machining methods to fabricate the tooling according to the approved design.
Quality checks by us.
Your First Shot Samples (us)
Once the injection molds are made, we'll send initial test shot samples internationally within 2-5 days.
Adjusting and Texturing the Tooling (us)
We finalize the tooling here and make any needed tweaks to meet specifications. Adjustments to hit the approved specs (not design changes, which cost extra) are done by us at no charge.
Texturing also happens at this stage, typically the last step before mass production.
Mass Production Run or Export (us)
Parts are made and shipped to you here, or we export the tooling for your use.
Here are some additional details on timeframes:
Tooling typically takes 5-6 weeks after receiving your deposit, assuming the 3D files are finalized. For rush orders, we can shorten the lead time to 21 days for an additional fee.
The "T1" test shots are the initial samples made according to your 3D specifications. Depending on the complexity of the plastic parts, it usually takes 1-2 weeks, sometimes longer, to finish the test shot stage.
Production lead times depend on the part complexity, material and tool requirements, and your order quantity. If you have a target timeframe, please let us know so we can check with our factories on meeting your deadline. As an example, an order of 10,000 units would normally take around 2 weeks.
Contact us for project time estimates, as scopes and schedules vary.
Shipping:
Shipment timelines depend on the method (UPS, DHL, TNT, FedEx, ocean, air, etc).
If you have a designated freight forwarder, we can use your existing accounts for an additional fee. If not, we can recommend forwarders we've worked with previously.
From our experience, samples typically take 2-5 days by air and 20-45 days by sea, depending on the destination.
For China port FOB deliveries, international couriers aren't recommended, as the process is complex. EMS is better for small, urgent shipments.
Customs clearance times also vary by country. Check with your local forwarders for regular timings.